Almost August
We certainly have been enjoying some beautiful summer weather and temperatures. I must admit I was really surprised when I looked at my calendar on Monday and realized that August begins this week!
Quilting by Olive
Just a couple of things I want to pass on. Janet's long arm business is now Langley Designs-Home of Quilting by Olive Longarm. Her new address is 147 N First Street, Connellsville, PA 15425. Janet's schedule will remain the same at the quilt shop; she will be here the second Tuesday of each month at 11. Now is the time to think about a schedule for Christmas gifts if you need Janet to quilt them for you. Just as August sneaked up on me so will Thanksgiving and Christmas!
Next schedule time at the shop is Tuesday, August 13 at 11 am.
Jeff's Sewing Station
Jeff has also set up a schedule at the shop for pick up and delivery for your sewing machine cleaning and/or repair. Beginning in September, Jeff will pick up machine on the first Friday of every other month and then he will return them in two (2) weeks. The next time Jeff will be picking up machines will be on Friday, September 6 and will return those repairs on Friday, September 20. Remember Jeff picks up the machines at the shop; he does not work on them here.
New Fabric
So....last year I purchased one (1) bolt of the black and red Buffalo plaid fabric. This fabric was so successful and I just loved it. I must have loved it because I purchased three (3) bolts this year and they are all different! We already have some plans for some projects like Christmas stocking and pillowcases and tote bags. Here are the fabrics I have in stock. They are also available on the web-site--www.ptquiltshop.com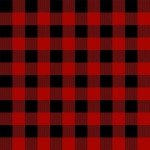 This one is called Gone Camping and the checks are a medium size. This fabric is $11.49 per yard
This one is called Red Buffalo Check and it is a larger plaid design. It is also $11.49 per yard.
I really love this Buffalo check because it is printed on the bias. This fabric is $10.99 per yard.
I shall add pictures of our projects as we complete them on my Facebook page and web-site.
OK I shall sign off for now and let you mark your calendars for Quilting by Olive and Jeff's Sewing Station. You can also decide what you want to make with the Buffalo Check fabrics. Besides we just received a shipment of flannel from Henry Glass called "Winter Whimsy". It should be posted on the web-site today!

Hope you have a sew-sew week,
Linda